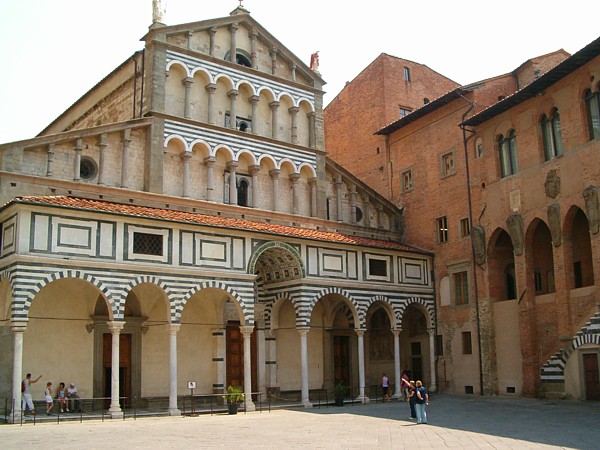 The Cathedral of Pistoia, called the Cathedral of San Zeno, is the bishopric of Pistoia and is located in the historic center of Pistoia. The cathedral has a Romanesque façade and two statues are installed at the ends of the spire, that of San Zeno and that of San Jacopo.
The building also has a bell tower and a baptistery, a crypt while the main body consists of three naves.
Inside there are several chapels: that of the Blessed Sacrament which houses a painting by Lorenzo di Credi, entitled "Madonna Enthroned between Saints John the Baptist and Donato", begun by Verrocchio, the Chapel of San Rocco which houses the urn of Sant'Atto, the Chapel of the Crucifix which contains the altar of San Jacopo in embossed silver foil and the Chapel of the Last Judgment where there are fragments of a fresco by Giovanni da Ponte.
Below the presbytery is the crypt, which already existed in the first Romanesque building.
The naves of the cathedral house numerous works of historical and artistic importance such as the Crucifix by Coppo di Marcovaldo and statues dedicated to popes and various sepulchral monuments.
During the Christmas period, a spectacular nativity scene is exhibited in the first rooms of the crypt, made every year by local artists in different materials (cork, wood, stones, etc. ..) much visited by both the citizens of Pistoia and tourists.